AUTOCON® CONTAINER TRANSPORT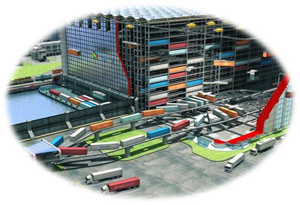 The Korea Transport Institute (KOTI) has been developing the AUTOCON® system solution for automated handling and transport of 20 and 40 foot containers, based on the NOWAITTRANSIT® solutions. The AUTOCON® system solution is very attractive for long haul trunk corridors with high transport capacity needs as well as short haul applications from congested and space limited container ports to inland and larger facilities. For such applications up to 20 million TEU per year per direction can be transported on a line with two tracks.
For a more detailed description of an application between the two major cities in the Republic of Korea with more than 20 million people, please download The Korea Transport Institute presentation here .